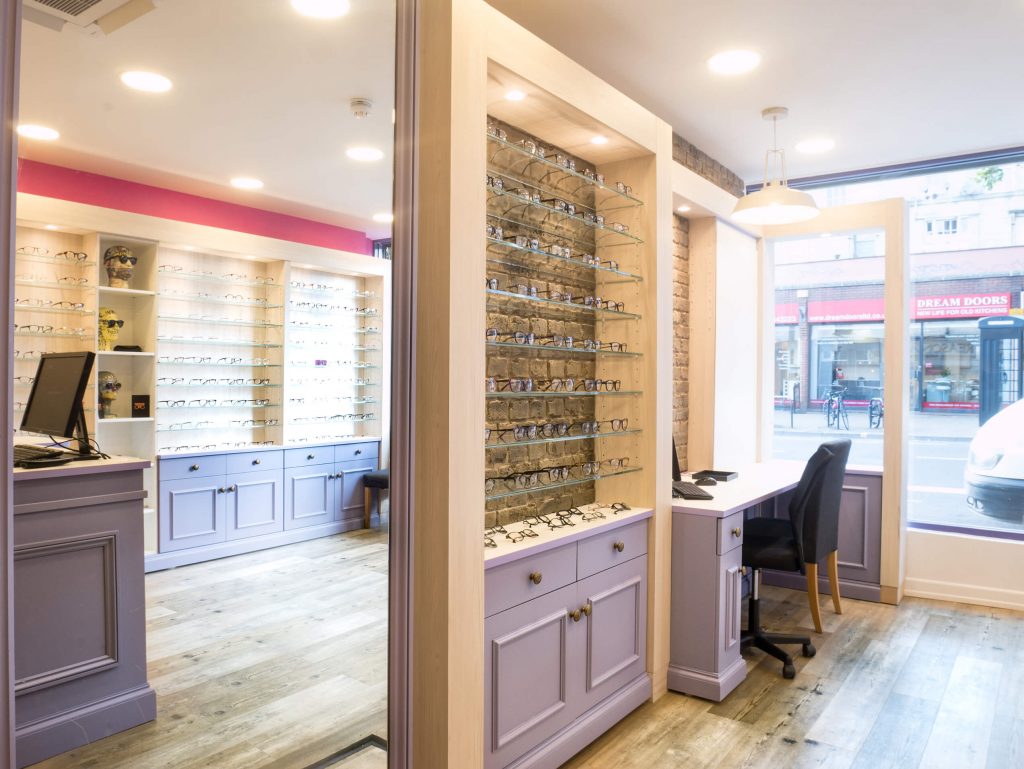 We celebrate 40 years on Gloucester Road
We've had a busy autumn in our eyewear boutique! We've been established on Gloucester Road for 40 years, and our optical advisor, Lorraine Richmond, has been here from the start. She tells us we've out-lasted 12 other opticians in that time! To celebrate our commitment to the local community, we've undergone a major investment with a store refit and new state-of-the-art equipment for diagnosing and treating eye health.
The optical eyewear boutique for Gloucester Road
In September, our vision to create a bright, modern optical boutique became a reality. Lynne Fernandes explains, "Gloucester Road customers are supportive and savvy. They want individual style away from the mass-produced eyewear dullness, and we wanted to respect this by encouraging them into beautiful surroundings and engaging with our eyewear. The existing space was small, and customers were met with a sea of glasses which seemed to morph into one. Our re-design strategy was to open up the floor space and add additional private frame styling areas with a real 'personal shopping' feel. We can now offer a truly personal frame styling service in privacy for anyone, whether you're looking for designer glasses such as our latest range, Kirk & Kirk or Affordably Fabulous complete glasses at £99."

Advanced Eye Care
We've expanded our clinical services to offer an Advanced Eye Examination for people with a family history of eye disease or increased risks. Using our OCT (state-of-the-art optical equipment), we can take revolutionary scans of your eyes similar to an MRI scan for the rest of your body. It even enables us to accurately monitor myopia (short-sightedness) in children. The OCT scans the back of your eye, which allows us to instantly diagnose conditions including glaucoma and age-related macular degeneration (AMD). It can detect even the most subtle changes to the retina with every scan, which gives us an invaluable ongoing record of the health and condition of your eyes.
Glasses you'll love to wear
Our new optical boutique is the perfect backdrop to display our stunning eyewear. We research and only stock the very best designer eyewear from across the globe. These chic, handmade frames are crafted to the highest quality and designed for ultimate comfort. They include LINDBERG – Danish by design and synonymous with award-winning rimless glasses, Barton Perreira –unique luxury eyewear from LA, Tom Davies – Britain's leading bespoke eyewear brand and Kirk & Kirk –colourful, chunky frames that are incredibly light, plus more. And, of course, our Affordably Fabulous range.

Talking about the changes, Gerard Fernandes said, "At a time when the retail industry is struggling, and we've seen a number of closures in the last 12 months on Gloucester Road, we're really proud to be investing in our independent business and the local area. This is the perfect way to celebrate 40 years of independent opticians serving Gloucester Road. We believe our clinical excellence and boutique style optician are unmatched in Bristol, and we're very excited about the future. If you haven't already been in, come and see us soon!"
Don't forget to read all about our very own, Lorraine Richmond's 40 years in optics next!
If you need to book an appointment with our independent opticians in Bristol, click here.