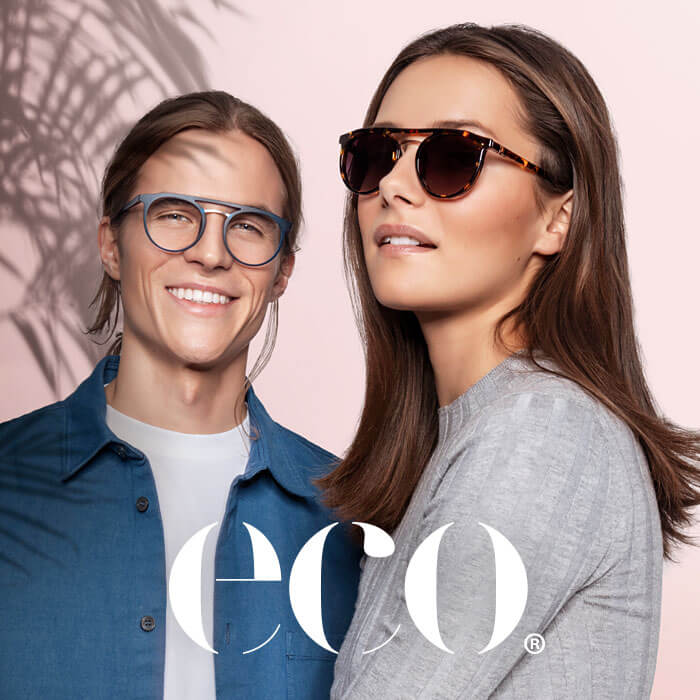 ECO Sunglasses Open Day, Sat 6 July 2019 – Real sustainable eyewear
Do you want to look and feel good when you choose your next pair of specs or sunglasses? How about doing good too? If you do, don't miss our ECO sunglasses and eyewear Open Day at our Wells Road optician on Saturday, 6th July.
We'll be showcasing the real sustainable eyewear brand – ECO. Stunning eyewear designed and made from earth-friendly materials. The full collection will be here, including sunglasses. Plus, there's a special offer on the day and a chance to win in our FREE prize draw.
ECO Sunglasses - Look Good, Feel Good, Do Good
ECO has committed to sustainability and social responsibility and plants a tree for each frame you buy. ECO's 'One Frame - One Tree' program has planted over 2 million trees!
The collection features ECO Recycled frames made with 95% recycled stainless steel, so you only impact the world 5%, and Biobased frames made from a resin derived from castor plant's oil, a natural and sustainable way to produce eyewear. Add ECO's fun magnetic clip-on that seamlessly clicks onto the frame, and now you and your glasses are ready for the sunshine!
ECO Sun, also made from earth-friendly materials, features a range of sunglass shapes and styles with polarized lenses so you can enjoy the sun, protect your eyes and respect the planet!
Exclusive offer
Come along on the day, enjoy refreshments on us, and when you buy an ECO frame, we'll give you FREE standard vision lenses worth £50.*
You could be a winner too. Take part in our FREE prize draw with a chance to win one of two fantastic prizes; An ECO glasses frame and a pair of ECO sunglasses – worth £149.00 each.
When and Where
Saturday 6 July 2019
9.00am to 5.00pm
Lynne Fernandes Optometrists
182a Wells Road, Knowle
Bristol, BS4 2AL
Book your eye appointment now
You don't have to be a patient at Wells Road to come to the event. Everyone is welcome whether you regularly attend Gloucester Road, Nailsea, or you're new to Lynne Fernandes Optometrists.
Why not book your appointment now, for Saturday 6 July, to avoid disappointment on the day? It's easy and quick to book. Book online, or call us on 0117 9776330.
Follow us on Facebook and Instagram for the latest event updates and all things ECO!
We look forward to seeing you!
*offer only applies to orders placed on 6 July 2019