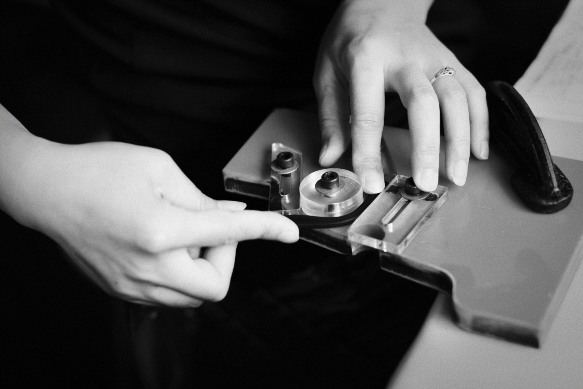 Tom Davies by Liam Chambers
As an expert eyewear stylist, one of the things I absolutely love about the Tom Davies brand is that the possibilities are almost endless. They are able to be worn directly as an original model, or altered and tweaked in a made to measure format (meaning we can adjust the colours, the width of the lens, the length of the side) in order to get a better fit, or be completely changed in the form of a bespoke model. For those reasons they are amongst my favourite spectacle frame, due to the many options available.
Where I have found Tom Davies to be very useful is when people can't easily find frames that fit them. With a Tom Davies frame, it is possible to change the shapes, sizes, colours, thicknesses, and much more - making it a great option, especially if you have a higher prescription. The process does take longer - as the frames are fully bespoke, and precise facial measurements are needed to ensure a perfect fit. Once ordered, Tom Davies will send you email updates in the form of videos showing you which process your frame has now entered, as every model is handmade.
I've found it incredibly rewarding when dispensing Tom Davies glasses, as the results are exactly as you would expect - perfectly fitting spectacles for people who are always delighted and look amazing!
TD Tom Davies Eyewear is a leading designer and maker of luxury eyewear. The brand has become renowned for its unique designs, superior craftsmanship and luxurious materials. They are a trusted name in the world of luxury eyewear and our optometrist team are lucky to offer such frames and spectacles.
If you are interested in having your framers personalised by an eyewear stylist, or need to make a general eye car appointment, book here.